How To Take Part In Frankie & Benny's Survey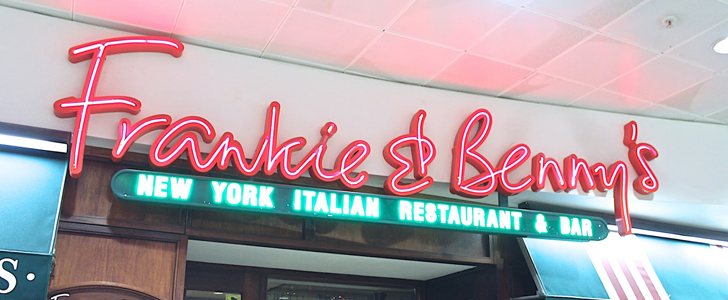 About Frankie & Benny's
Frankie & Benny's is a Italian-American restaurant chain in the UK. It was founded in 1995, and its headquarter is London, United Kingdom. Currently, it operates more than 200 stores all over the UK.
About Frankie & Benny's Survey
Frankie & Benny's Survey is an online activity for the company collecting feedbacks from its customers. By learning what its customers need or how its customers think about their service or food, the company can have a better understanding on how to improve their service.
Upon completion of the Survey, you will receive £10 off your food bill on your next visit to Frankie & Benny's between Monday and Friday. Plus, you will have the chance to win an iPad in the monthly draw.
How Can You Take Part In Frankie & Benny's Survey?
Before you begin, you will need to prepare the following:
1. A device with internet access.
2. A receipt from Frankie & Benny's.
Detailed Instructions:
1. Go to the website of Frankie & Benny's Survey at http://www.fabfeedback.com
2. Enter the 13-digit invitation number shown on your receipt, and click "Take Part" to begin.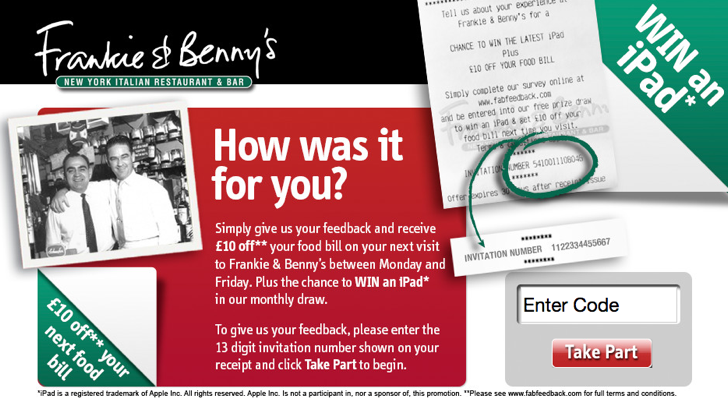 3. Follow the instructions step by step to finish the survey.
4. If you want to know anything about the rules, please refer to: http://uk.marketforce.com/f&b/rules.php
5. For further information, please refer to FAQs page at: http://www.frankieandbennys.com/frequently-asked-questions